Published Monday, July 17 by The Cricklewood Massive.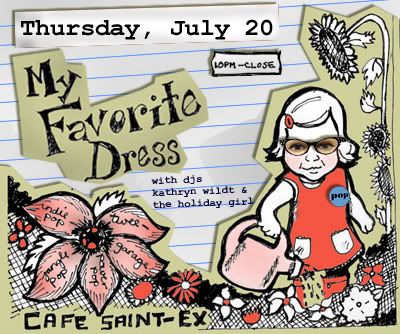 Anyone who's been to iPod Jukebox knows Kathryn has fantastic taste in music. Come out to My Favourite Dress on Thursday and you can see how brilliant her sets are when they're not limited to 12 minutes at a time.
Also: Rumor has it that persons wearing dresses will be eligible for drink specials.
My Favourite Dress
Thursday, July 20
at Cafe Saint-Ex
1847 14th St. NW
10 p.m. - 2 a.m.
No Cover Charge
Published Sunday, July 16 by The Cricklewood Massive.

iPod Jukebox: July 12, 2006
Movies: Godzilla, Mothra And King Ghidorah: Giant Monsters All-Out Attack; The Long Good Friday

Kathryn
The Indelicates – New Art For The People
The Crimea – Baby Boom
The Robocop Kraus – After Laughter Comes Tears
Math And Physics Club – When We Get Famous

Matt Spangler
Bob Seger And The Silver Bullet Band – Come To Poppa
Jan Hammer – Crockett's Theme (9mm Mix)
P.I.L. – The Order Of Death

Steve Little
Shakira – Hips Don't Lie
Juanes – La Camisa Negra
Don Omar – Dale Don Dale (Remix)
Daddy Yankee - Rompe

Fritz
Lily Allen – Friday Night
Prototypes – Je Ne Te Connais Pas
The Lodger – You Got Me Wrong
The Little Ones – Lovers Who Uncover

Ryan McDermott
Beat Happening – Noise
Tullycraft - Pop Songs Your New Boyfriend's Too Stupid To Know About
The Pastels – Million Years
Tullycraft – Twee

Mo
DJ Mot Rai Mix (Tracks 1-5)

Mike Benson
Tom Petty – Asshole
Beck – Everybody's Gotta Learn Sometimes
KC & The Sunshine Band – Please Don't Go

David Mack
Iron Maiden – Run To The Hills
Ween – Freedom Of '76
Guns 'N Roses – One In A Million

Josh Wenderoff
Shannon – Let The Music Play
MC Lyte – Paper Thin (Part 1)
Akrobatik – The Hand That Rocks The Cradle
Mr. Lif – 360 Degrees
The Mohawks – Champ

Idil Oyman
Gorilla Biscuits – Cats And Dogs
Brand Nubian – Steal Ya Ho
The Specials – Niteclub
Into Another – Underlord

C-T-R
French Kicks – Oh Fine
Fiction Plane – Everything Will Never Be OK
The Raconteurs – Steady As She Goes

Trevor
The Howling Hex – Apache Energy Plan
Silkworm – A Cockfight Of Feelings
Rocket From The Crypt – Short Lip Fuser

Corrie
The Pernice Brothers – My So-Called Celibate Life
Jenny Lewis & The Watson Twins – Handle With Care
Band Of Horses – The Funeral

Payne
Hootie & The Blowfish – Let Her Cry
Traveling Wilburys – Tweeter And The Monkey Man
Patsy Cline – Walkin' After Midnight

Kathryn (Again)
Le Club Des 7 – Le Parapluie
Lily Allen – Knock 'Em Out
The Pipettes – One Night Stand
The Impulse! – Beat Of My Soul

Fritz (Again)
The Indelicates – Julia, We Don't Live In The '60s
Arab Strap – Why Can't This Be Love?
The Boyfriends – Adult Acne
Frankie And The Classicals – What Shall I Do?

David Mack
[Missing]
Hieroglyphics – Let It Roll
Ween – Voodoo Lady

Fin
Johnny Cash – Train Of Love

Published Monday, July 10 by The Cricklewood Massive.

Due to circumstances that are kinda/sorta beyond our control, iPod Jukebox will start at 10 p.m. on Wednesday -- one hour later than normal. (We don't want to bore you with work-related reasons.) Still, we hope you can make it out.

Cheers.
The Cricklewood Massive