We promised you another iPod Jukebox, and here's the announcement: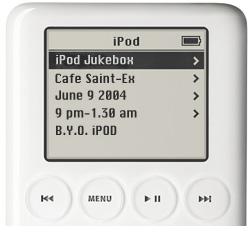 (click for the full flyer)
We're sticking with the same format -- read the FAQ for details -- and there will be more news closer to the date. Thanks to Neal and everyone at
Cafe Saint-Ex
.
Oops. Forgot to post this on Monday. The Washington Post's Rob Pegoraro gave iPod Jukebox
some excellent press
in his weekly Fast Forward e-mail newsletter. Many thanks to Rob.
In other news, it looks like iPod Jukebox will be coming to a Washington D.C. bar in early June. While details haven't been confirmed, things look promising and we're excited about the opportunity. More news soon.
Thanks to everyone who came out to
Galaxy Hut
on Wednesday night for the first iPod Jukebox event -- especially those who brought their MP3 players. Quite an interesting mix of music: Guns N' Roses, Nina, Franz Ferdinand, Lloyd Cole, Edwin Moses, the Postal Service, Supreme NTM, James Brown, I:Cube, Wiley, Sleater-Kinney ...
Lary invited us back, so watch this space for announcements about the next iPod Jukebox.